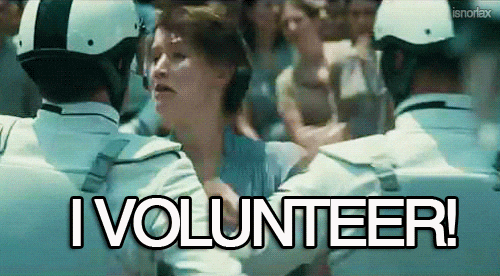 Volunteer for The Fantasy News — It looks awesome on a resume, and we promise not to send you to the Capitol.
Writers
Do you love fantasy or sci-fi? What about superheroes, genre art, comics, graphic novels? If you're a fan of any of these things, we could use your help.
We're always looking for writers who specialize in a particular fandom or two. Writing is currently a voluntary position, and requires a dedicated person with an agreeable personality. We have a great team and we'd love for you to be a part of it. Our goal is to share high quality original content, as well as provide readers with the latest news on their favorite movies and tv shows.
If you like new and classic TV shows and movies in the genres of fantasy, sci-fi, superhero and speculative fiction, and you'd love writing about them on a regular basis, please fill out the form below!
Forum Moderators
Are you interested in helping to moderate the forum? We're looking for volunteers to help with the community.
Currently, what we'd like is simple.
Folks who are willing to help out by posting at least one new discussion topic per day.
Folks who are willing to help police the forum to stomp out bullying.
If you're interested, please fill out the form below!
Artists
We're looking for people to submit fan art. This could be used with our stories and fan art collections. We'll promote your Deviant Art account or any other art website that you may use for your displays. Please keep it safe for work.
Please fill out this application to get more information: