Earlier this week Neil Gaiman and wife Amanda Palmer called on their fellow authors to actively support independent bookstores. In honor of their quest, here are five great fantasy books that came out this summer that you can pick up at your local bookstore today and five titles that you can't miss out on this fall. Support your local booksellers and catch up on some of 2014's best titles at the same time by checking out the following books:
SUMMER 2014: 
by Joe Abercrombie
From Publishers Weekly:
In this superb fantasy trilogy kickoff, Abercrombie (the First Law trilogy) regales readers with the tale of a young man who is thrust onto the throne by unexpected betrayal. Yarvi, the king's second son, is not destined for the Black Chair or kingship of Gettland: he has a withered left hand, and is bound to become a minister. But everything changes when his brother and father are murdered. Yarvi is clever and knowledgeable, thanks to the years he spent studying for the ministry, but none of that will amount to much unless he can survive the sheer cruelty of being raised to the crown, nearly murdered, and traded into slavery in the span of days. The one thing he knows is that he plans to live long enough to take revenge on his father's killer—when he finds out who it was. Abercrombie's stellar prose style and clever plot twists will be sure to please both adult and teen readers.
"Half a King is my favorite book by Joe Abercrombie so far, and that's saying something."—Patrick Rothfuss

The Broken Eye (Lightbringer Series #3) 
by Brent Weeks
From Publishers Weekly:
The third Lightbringers epic installment (after The Blinding Knife) primarily acts as a bridge between the two other volumes. Gavin Guile, the former Prism, is now color-blind and enslaved aboard a pirate galley. Old hurts and grim prophecy loom over the machinations to name his successor. His recently acknowledged son, Kip, struggles to find a place in the military, while Guile's rejuvenated father, Andross, runs the Chromeria, a council of wizards who work in solidified colors of light. As son and grandfather clash over missing artifacts, a religious heretic continues his conquest of the capital's outer districts, and a legendary sect of assassins infiltrates the city. Weeks is fond of complicated schemes, and his plot feels like an orchestrated chess match between genius grandmasters, but he also leavens the logic with humor. His characters are charming even as they are threatened with being swept off the chessboard. Fans of George R.R. Martin's Song of Ice and Fire will find the family dynamics of the Guiles quite familiar. (Sept.)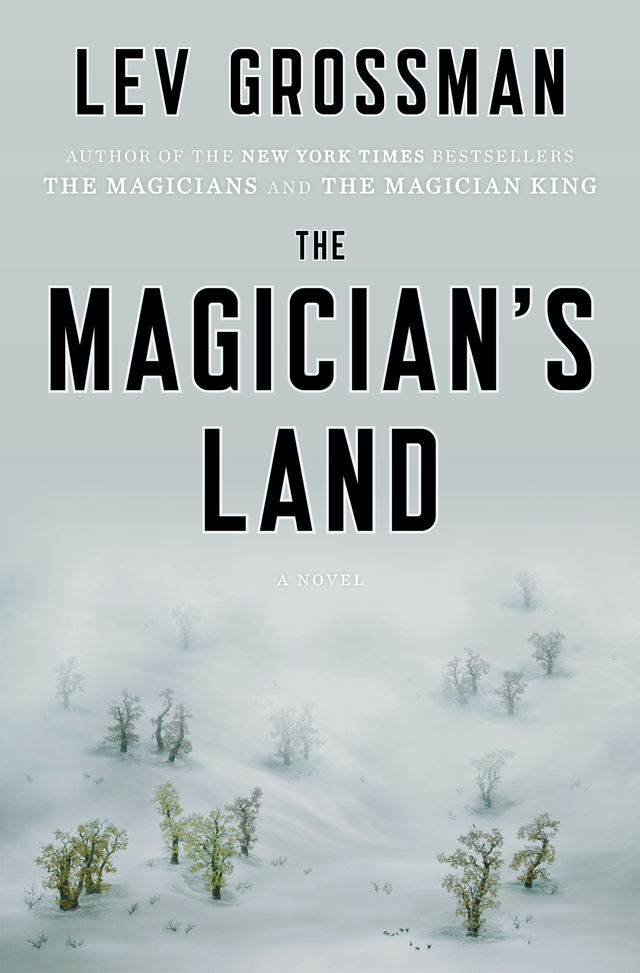 The Magician's Land (Magicians Series #3)
 by Lev Grossman
From Publishers Weekly:
Grossman's final entry in the Magicians Trilogy (following The Magician King) brings Quentin Coldwater's story to a satisfying conclusion. After Quentin is banished from his beloved magical land of Fillory and fired from the Brakebills school of magic, he joins a wizardly heist masterminded by a talking bird. The target: a relic from one of the first children to visit Fillory, whose adventures were immortalized in a series of Narnia-like children's novels. During this mission, Quentin must confront his past mistakes and his role in the dying Fillory's future. Just as Quentin achieves a new maturity, so Grossman's trilogy becomes more than a sex-and-swearing satire of Harry Potter and Narnia. Grossman still can't resist winking at his novels' antecedents, as when a character uses the Harry Potter catchphrase "Mischief managed." Though the tone is occasionally too ironic, and Quentin's victories overly easy—such as a reconciliation with a key character from the first novel—this novel serves as an elegantly written third act to Quentin's bildungsroman, in which he at last learns responsibility and to not simply put childish things aside but understand them—and himself—anew. Fans of the trilogy will be pleased at how neatly it all resolves. Agent: Tina Bennett, WME. (Aug.)
by Erika Johansen
From Publishers Weekly:
Johansen makes an impressive debut with this ambitious fantasy adventure, which takes place several centuries from now following the collapse of civilization and mass migration to a newly discovered continent. The resultant society resembles medieval Europe, with modern technology all but forgotten, and magic is subtly present. Finally come of age, 19-year-old Kelsea Glynn must evade assassins and her uncle's nefarious plans in order to take her place as rightful queen of the nation known as the Tearling. Her first acts as ruler break a treaty with neighboring Mortmense and anger the unaging sorceress called the Red Queen; Kelsea rallies her allies and prepares for war. Johansen starts strongly, with a forceful, memorable heroine immediately thrust into a series of intense situations and forced to make dynamic, if overly idealistic, decisions. While the setting and backstory could stand further explanation and exploration, and many elements fall apart under closer scrutiny, this trilogy launch is still an engaging page-turner. Agent: Dorian Karchmar, William Morris Endeavor. (July)
by John Scalzi
From Publishers Weekly:
Hugo-winner Scalzi (Redshirts) successfully shifts away from space opera with this smart, thoughtful near-future thriller resonant with the themes of freedom, ethics, and corporate greed. The story is set some 25 years after the first appearance of Haden's Syndrome, a virus that killed 400 million people and leaves a small percentage of its victims in "Lock In," a state in which they are fully aware but trapped inside unresponsive bodies. Neural net technology allows Hadens to use android-like "threeps" or make arrangements with Integrators, survivors whose virus-altered brains allow them to share their bodies. When a corpse is found at the Watergate hotel and the only suspect is a blood-covered Integrator who says he doesn't remember what transpired, newly minted FBI agent Chris Shane and veteran agent Leslie Vann are called in to investigate, uncovering an intricate tangle of political and business interests. Scalzi's characters possess tangible motivations and inhabit a thoroughly believable world, and the growing partnership between Shane and Vann is a pleasure to watch unfold. This powerful novel will intrigue and entertain both fans and newcomers. (Aug.)
FALL 2014: 
The Slow Regard of Silent Things: A Kingkiller Chronicle Novella
by Patrick Rothfuss
Publication date: 10/28/2014
Overview: A companion novella to Patrick Rothfuss' bestselling Kingkiller Chronicle novels, The Slow Regard of Silent Things shares an enchanting new perspective on the Four Corners realm.
 
Renowned as a bastion of knowledge, the University draws the brightest minds to unravel the mysteries of enlightened sciences, such as artificing and alchemy. Yet deep below its bustling halls lies a complex web of abandoned rooms and ancient passageways. In the heart of this cavernous maze is a young woman named Auri, who calls this Underthing her home.
 
Formerly a student at the University, Auri now spends her days tending to the world around her. She knows that some mysteries are better settled and safe. No longer fooled by the sharp rationality so trusted by those above her, Auri sees beyond the surface of things, into subtle dangers and hidden names.
 
At once joyous and haunting, The Slow Regard of Silent Things is a richly atmospheric and lyrical tale, featuring one of the most beloved characters from Rothfuss' acclaimed fantasy series.
"It is a rare and great pleasure to find a fantasist writing…with true music in the words…. Wherever Pat Rothfuss goes…he'll carry us with him as a good singer carries us through a song." —Ursula K LeGuin
"The Wise Man's Fear is a beautiful book to read. Masterful prose, a sense of cohesion to the storytelling, a wonderful sense of pacing…. There is beauty to Pat's writing that defies description." —Brandon Sanderson
The Peripheral
by William Gibson
Publication date: 10/27/2014
Overview: William Gibson returns with his first novel since 2010's New York Times–bestselling Zero History. Where Flynne and her brother, Burton, live, jobs outside the drug business are rare. Fortunately, Burton has his veteran's benefits, for neural damage he suffered from implants during his time in the USMC's elite Haptic Recon force. Then one night Burton has to go out, but there's a job he's supposed to do—a job Flynne didn't know he had. Beta-testing part of a new game, he tells her. The job seems to be simple: work a perimeter around the image of a tower building. Little buglike things turn up. He's supposed to get in their way, edge them back. That's all there is to it. He's offering Flynne a good price to take over for him. What she sees, though, isn't what Burton told her to expect. It might be a game, but it might also be murder.
"Spectacular, a piece of trenchant, far-future speculation that features all the eyeball kicks of Neuromancer and all the maturity and sly wit of Spook Country. It's brilliant." —Cory Doctorow
by George R. R. Martin, Luis Royo (Illustrator)
Publication date: 10/21/2014
Overview:The Ice Dragon is an enchanting tale of courage and sacrifice for young readers and adults by the wildly popular author of the #1 New York Times bestselling Song of Ice and Fire series, George R.R. Martin. Lavish illustrations by acclaimed artist Luis Royo enrich this captivating and heartwarming story of a young girl and her dragon. In the world of A Song of Ice and Fire the ice dragon was a creature of legend and fear, for no man had ever tamed one. When it flew overhead, it left in its wake desolate cold and frozen land. But Adara was not afraid. For Adara was a winter child, born during the worst freeze that anyone, even the Old Ones, could remember. Adara could not remember the first time she had seen the ice dragon. It seemed that it had always been in her life, glimpsed from afar as she played in the frigid snow long after the other children had fled the cold. In her fourth year she touched it, and in her fifth year she rode upon its broad, chilled back for the first time. Then, in her seventh year, on a calm summer day, fiery dragons from the North swooped down upon the peaceful farm that was Adara's home. And only a winter child—and the ice dragon who loved her—could save her world from utter destruction.
This new edition of The Ice Dragon is sure to become a collector's item for fans of HBO's megahit Game of Thrones.
 The Way of Shadows: The Graphic Novel
by Brent Weeks, Andy MacDonald (Artist), Ivan Brandon (Adapted by)
Publication date: 10/7/2014
From Barnes & Noble: 
Apprenticing himself to Durzo Blint might not have been Azoth's best idea, but a petty thief needs to take chances even if it means becoming a master assassin's fledgling charge. That decision is just the beginning of this graphic novel adaptation of Brent Weeks' gritty novel The Way of Shadows, the first volume in his popular Night Angel Trilogy. A narrative with intense twists and turns.
Station Eleven
by Emily St. John Mandel
Publication date: 9/9/2014 out now!
 From Publishers Weekly:
Few themes are as played-out as that of post-apocalypse, but St. John Mandel (The Lola Quartet) finds a unique point of departure from which to examine civilization's wreckage, beginning with a performance of King Lear cut short by the onstage death of its lead, Arthur Leander, from an apparent heart attack. On hand are an aspiring paramedic, Jeevan Chaudary, and a young actress, Kirsten Raymonde; Leander's is only the first death they will witness, as a pandemic, the so-called Georgia Flu, quickly wipes out all but a few pockets of civilization. Twenty years later, Kirsten, now a member of a musical theater troupe, travels through a wasteland inhabited by a dangerous prophet and his followers. Guided only by the graphic novel called Station Eleven given to her by Leander before his death, she sets off on an arduous journey toward the Museum of Civilization, which is housed in a disused airport terminal. Kirsten is not the only survivor with a curious link to the actor: the story explores Jeevan's past as an entertainment journalist and, in a series of flashbacks, his role in Leander's decline. Also joining the cast are Leander's first wife, Miranda, who is the artist behind Station Eleven, and his best friend, 70-year-old Clark Thompson, who tends to the terminal settlement Kirsten is seeking. With its wild fusion of celebrity gossip and grim future, this book shouldn't work nearly so well, but St. John Mandel's examination of the connections between individuals with disparate destinies makes a case for the worth of even a single life. (Sept.)