In addition to this week seeing the highly anticipated release of Tolkien's Beowulf  (still jumping up and down over the fact this is getting published, btw), this week also brings a slew of new fantasy books. Published this Tuesday are several continuations of series, like the next novel of L.E. Modesitt Jr's bestselling and long running fantasy series, the Saga of Recluse, Ronlyn Domingue's sequel to her Mapmaker's War, as well as the follow up to film critic Robert Cargill's Dream and Shadows. Also released is Monica Byrnes' debut Girl in the Road, a science fiction story Neil Gaiman describes as, "so sharp, so focused and so human. Beautifully drawn people in a future that feels so close you can touch it, blended with the lush language and concerns of myth. It builds a bridge from past to future, from East to West. Glorious stuff."
Tolkien's Beowulf is to be released this Thursday, the 22nd, and you can celebrate with Middle-earth Network  by visiting this link and joining the launch party!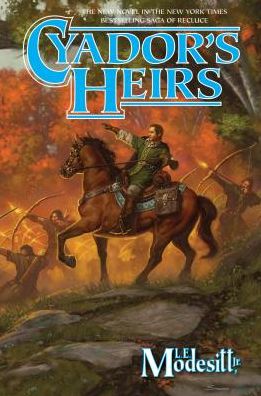 by L. E. Modesitt Jr.
From Barnes and Noble:
Decades after the fall of Cyador, its survivors have reestablished themselves in Cigoerne, a fertile country coveted by hostile neighbors in less hospitable lands. Young Lerial, the second son of Duke Kiedron, lives in the shadow of his older brother Lephi, the heir to their father's realm. Lerial's future seems preordained: He will ne day command his brother's forces in defense of Cigoerne, serving at his older sibling's pleasure, and no more.
But when Lerial is sent abroad to be fostered by Major Altyrn to learn the skills and wisdom he will need to fulfill his future duties, he begins a journey into a much larger world that brings out his true potential. Lerial has talents that few, as yet, suspect: He is one of those rare beings who can harness both Order and Chaos, the competing natural forces that shape the world and define the magic that exists within it. And as war finally engulfs the fringes of Cigoerne, Lerial's growing mastery of Order and Chaos is tested to its limits, and his own.
Queen of the Dark Things: A Novel
by C. Robert Cargill

From Publishers Weekly:
The powerful sequel to Dreams and Shadows returns readers to an alternate present where strange creatures walk among humans in Austin, Tex. Colby Stevens, a young man with an ancient gift, has lived a relatively solitary life since his previous adventures, suffering the consequences of his decisions and self-righteously guarding his chosen city. Then a young girl from his past makes her presence known in a way that threatens the existence of humanity. Marshaling what friends he has left, Colby must make a stand to save Austin, and his own soul. Brimming with philosophical conundrums and littered with myth and lore, Cargill's world is abundant in detail and imagery in the service of the story. Not a page is wasted; secondary characters are used sparingly and well, and every word is carefully chosen for maximum effect. Colby's journey through a world of demons and fears made real will keep readers entranced. Agent: Peter McGuigan, Foundry Literary + Media. (May)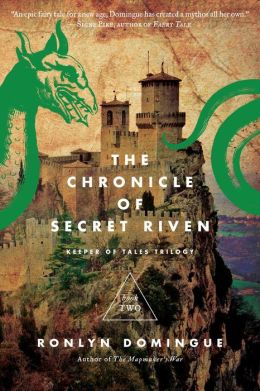 By Ronlyn Domingue
From Barnes and Noble:
One thousand years after a great conflict known as The Mapmaker's War, a daughter is born to an ambitious historian and a gifted translator. Secret Riven doesn't speak until her seventh year but can mysteriously communicate with plants and animals. Unsettled by visions and dreams since childhood, she tries to hide her strangeness, especially from her mercurial father and cold mother. When her knowledge of an esoteric symbol brings unwelcome attention, gentle, watchful Secret finds acceptance from Prince Nikolas, her best friend, and Old Woman, who lives in the distant woods.
When Secret is twelve, her mother, Zavet, receives an arcane manuscript to translate from an anonymous owner. Zavet begins to suffer nightmares and withdraws into herself. Secret sickens with a fever and awakens able to speak an ancient language, discovering that her mother is fluent as well. Suddenly, Zavet dies. The manuscript is missing, but a cipher has been left for Secret to find. Soon, Secret will have a choice to make: confront a destiny tied to an ancient past orThe Girl in the Road deny it, never to know its whole truth.
by Monica Byrne
From Library Journal: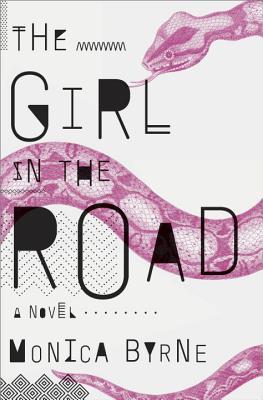 A spellbinding story, rich with vivid characters and set in a fascinating world, The Chronicle of Secret Riven explores the tension between love and hate, trust and betrayal, fate and free will. This spectacular and intriguing book of parallel journeys takes place in the near future and the present day; two narratives hat are seemingly unrelated arrow together in a shattering climax. The future quest is that of Meena, escaping frm a troubed history by embarking on an impossible odyssey across a floating wave-energy bridge connecting India and Africa. The contemporary Miriama is a child slave fleeing from Mauritania across continental Africa to Ethiopia. Both are running from violent pasts; both are in denial about the truth behind their lives. VERDICT Novelist and playwright Byrne's debut is enthralling on many levels. Meena's story provides a detailed vision of the technological and ecopolitical future of Africa and Asia, while Miriam's account depicts the tenuous experience of a powerless child in Africa. The incorporation of evolving views of gender with reference to the Hijra transgender experience in India and the Wodabe Gerewol mate selection ritual (made famous in Werner Herzog's film Herdsmen of the Sun) propel this novel into the stratosphere of artistic brilliance