This week's new Sci- Fi/ Fantasy releases include a new novel from veteran fantasy writer Melanie Rawn, as well as a debut science fiction novel from David Ramirez (a post apocalyptic tale described as having "sophisticated worldbuilding, clever trope inversion, and original plotting"). We also have six-time Hugo Award-winner Ben Bova's new novel Transhuman. Be sure to pick up your favorites at your local bookstore!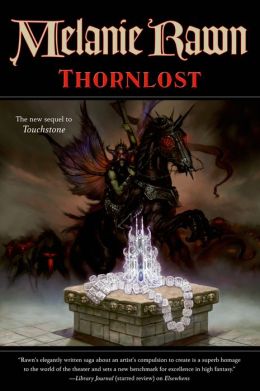 Melanie Rawn's Thornlost 
From Publishers Weekly
Rawn follows Touchstone and Elsewhens with an immersive, satisfying, and creative third tale of magical Renaissance theater. Cayden Silversun is the tregetour (wizard playwright) of the controversial and creative Touchstone theater company. … Cade is desperate to save his best friend, Mieka, the troupe's illusionist, from a prophesied future of total self-destruction. Rawn's characters are so intimately involved with their world that their new innovations in illusion seem as natural and exciting as the intrigues they're swept up in. Despite looming issues of class differences, bigotry, and addiction, at heart, the Touchstone players just want to stay together and make great art.
David Ramirez's The Forever Watch
From Publisher's Weekly:
Fans of hard SF will find this well-conceived and well-constructed debut a pleasure. Over 300 years after Earth became uninhabitable, the last remaining humans are on a huge spacecraft, the Noah, seeking a new home. The confined, dystopian society is one in which women are knocked unconscious to breed offspring they are never allowed to see, and people buy one another's memories to have experiences such as petting a cat. Information is tightly controlled; the police have a 100% success record because murders are not reported until they are solved by tapping into the memories of the killers postmortem. Bureaucrat Hana Dempsey teams up with her lover, police detective Leon Barrens, to solve a mystery: his mentor, Callahan, was brutally killed, possibly by a serial murderer known as Mincemeat. Their perilous quest for the truth leads to a series of existential secrets about the last human society and its prospects. Superior, psychologically plausible characterizations are combined with sophisticated worldbuilding, clever trope inversion, and original plotting to create a powerful story that will amply reward rereading.
 Nancy Atherton's Aunt Dimity & the Wishing Well
From Barnes & Noble: 
When a strapping young Jack MacBride arrives in Finch to wrap up his late uncle's affairs, heads turn in the sleepy English village. But when Lori volunteers to help Jack clear out his uncle's overgrown garden, they discover something even more shocking than a stranger turning up in Finch. After Lori laughingly tosses a coin into the garden's old well and makes a wish, she is baffled to find that the wish seems to have come true. Word spreads, and the villagers turn out in droves to make wishes of their own. But as they soon learn, one person's wish is another person's worst nightmare. As more and more wishes come true, Lori resolves to find out what's really going onµwith Aunt Dimity's otherworldly help.
 Ben Bova's TransHuman
From Barnes & Noble:
Luke Abramson, a brilliant cellular biologist who is battling lung cancer, has one joy in life, his ten-year-old granddaughter, Angela. When he learns that Angela has an inoperable brain tumor and is given less than six months to live, Abramson wants to try a new enzyme, Mortality Factor 4 (MORF4), that he believes will kill Angela's tumor.However, the hospital bureaucracy won't let him do it because MORF4 has not yet been approved by the FDA. Knowing that Angela will die before he can get approval of the treatment, Abramson abducts Angela from the hospital with plans to take her to a private research laboratory in Oregon.Luke realizes he's too old and decrepit to flee across the country with his sick granddaughter, chased by the FBI. So he injects himself with a genetic factor that will stimulate his body's production of telomerase, an enzyme that has successfully reversed aging in animal tests.As the chase weaves across the country from one research facility to another, Luke begins to grow physically younger, stronger. He looks and feels the way he did thirty or forty years ago. Yet his lung cancer is not abating; if anything the tumors are growing faster.
And Angela is dying.
 Kenneth Oppel's The Boundless
From Publisher's Weekly:
Will Everett's father is just a poor man laying track for the Canadian Pacific Railway until, on the day when the last spike is driven home somewhere in the Rockies, James Everett saves the railroad's president from an avalanche. Three years later, James is a railroad executive, and he and Will have been invited on the maiden intercontinental trip of the Boundless, the largest train ever assembled at nearly 1,000 cars. This purposefully melodramatic tale is set in a slightly alternate 19th-century North America, where monsters like the mighty sasquatch roam the Canadian wilderness. Will becomes embroiled in a plot to break into a palatial funeral car, along with Maren—the beautiful wire walker of the Zirkus Dante, whose cars are part of the train—and the circus's mysterious Métis ringmaster, Mr. Dorian. Dangers both natural and supernatural abound, as well as a certain amount of social commentary regarding class and ethnicity. Oppel's (Such Wicked Intent) imagination and sense of adventure never disappoint, and readers should thrill to this rousing tale as it barrels ahead at full speed. Ages 8–12